ABOUT
The "World Uchinanchu Festival" honors the achievements of Okinawan people from all over the world, recognises the great value of the community heritage of Okinawa , and seeks to expand and develop the Uchina network through exchanges with Okinawan citizens around the world. The purpose is to bring people together, reaffirm their roots and identity, and thereby be able to pass them on to the next generation.

The festival is sponsored by the Uchinanchu Festival Executive Committee of the world, which is organized by Okinawa Prefecture and related organizations, and has been held approximately once every five years since the first festival in 1990 (Heisei 2). It has been held 6 times so far.

Okinawa Tourist Information

Tourism information that is related to Okinawa prefecture and the specific municipality is located on the relevant municipality's website. Okinawa prefecture consists of 41 municipalities, of which each has its unique tourist sites.
Please refer to the website of each municipality upon visiting Okinawa. (For the English translation of the websites, please select your preferred municipality, then select "English" from the foreign language toolbar. Some municipality websites may not provide any foreign language translations. We thank you for your understanding.



MOVIE GALLERY
kodomo 5min
kodomo short

otona 5min

otona short
otona short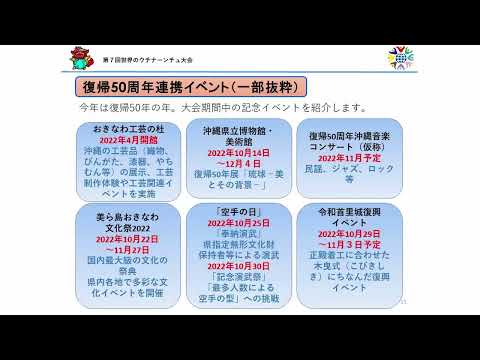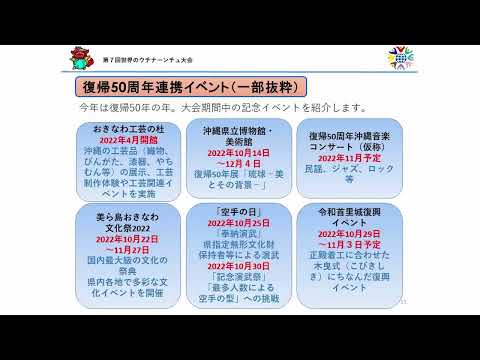 SUPPORT
Related organizations
Embassy / Consulate General of each country in Japan